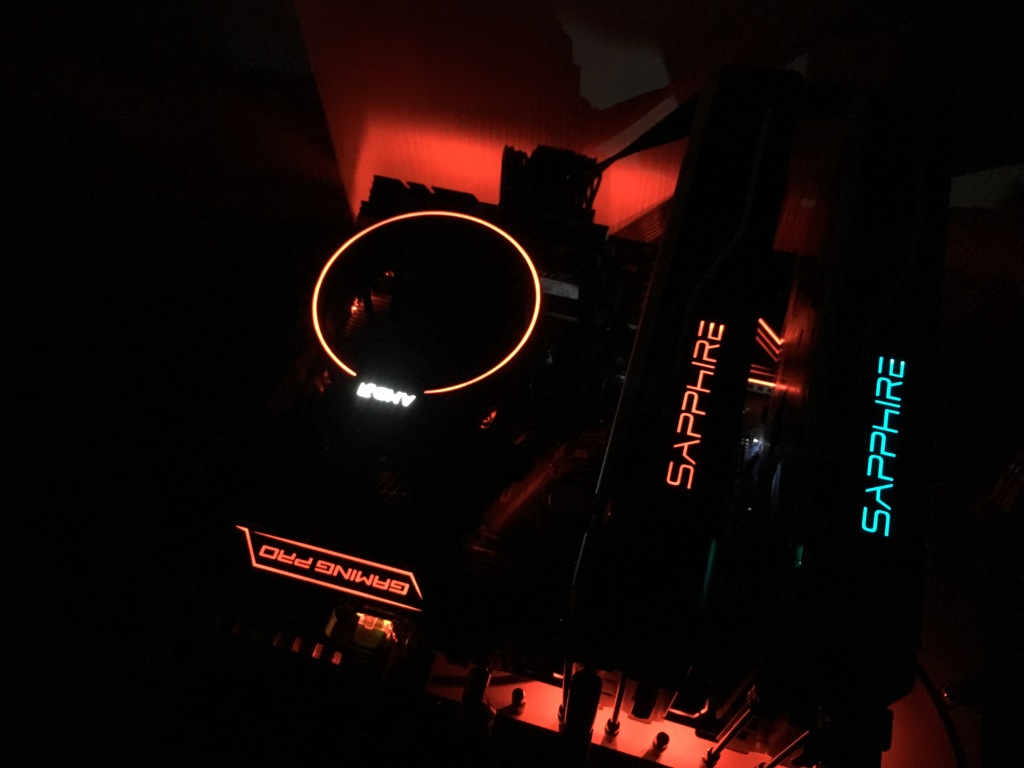 With the 4K drone footage I've been editing, I've been really pushing my Gigabyte Aero 14 past its limits, and since I was planning on spending a fair bit of time in one place for the next couple months (Tokyo until June), and since my bet on AMD last year has paid off well, it seemed fitting to put together a new Ryzen system.
I was traveling most of March, so I wasn't in a launch-day rush, but after reading some reviews, I saved a couple hundred bucks and went with a $320 Ryzen 7 1700. As a bonus, the 1700 comes with a nice looking (and pretty functional) CPU cooler and my copy easily overclocks to 3.7GHz (3.8-3.9 pushing voltages, but I'd probably upgrade the cooler in that case – you can purchase pre-binned versions here).
RAM prices have gone through the roof the past few months (almost double the price over the past 6mo) – I bought a pair of TridentZ 3200/CL16 sticks (Samsung E-Die) that I'm able to currently run at 2933 on my motherboard, but apparently, if you're looking for max performance, you'll want to go for some Samsung B-Die RAM at the moment.
I bought an MSI X370 Gaming Pro Carbon primarily because it was a nice monochrome look and had dual M.2 support (only the first slot runs at PCIe 3.0 x4 sadly due to the Ryzen 7/x370's PCIe lane availability), but I wouldn't recommend it. While it's had some BIOS updates, it still doesn't have the latest 4/10 AGESA update, and in general has had sluggish support and a few issues (my personal gripes: pokey POSTing, no last-good/soft-CMOS reset). Personally, if I was buying a top-of-the-line board, I'd probably go with the Asus ROG CH6 – while it doesn't have a second M.2 slot, you could put a PCIe adapter board on the last slot for that. As a bonus, there are a bajillion USB ports.
I'm running a Corsair SF600 SFX Power Supply (9.7 jonnyGURU Recommended) on an Open Benchtable BC1 which works/looks great, w/ the caveat that SFX power supply requires a 3D-printed adapter to mount.
Instead of buying new GPUs, I just brought along a couple RX470 mining cards (sadly, these two weren't running the past two months – that would have been $400-600 of missed earnings w/ the ETH run-up). I have them beavering away in the background right now while the system idles. (I am running the latest 17.4.2 drivers but with a BIOS signature check bypass).
One note during installation is that I had hard-lockup problems when installing from a 2015 Windows 10 stick – you'll want to make a new one, w/ a 12/2016 ISO I didn't have any problems.